Premium Adult Care Affordable By Anyone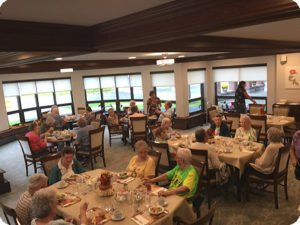 Congregate care setting. All private rooms, meals, personal assistance, medication management and social programs all in a beautiful home setting.
For details contact our Administrator, Jennifer Jones at 518.673.5514.
Coming for a visit?
We love to have company!  When you come to see your family or friend, please keep the following information in mind.  If you are not feeling well, it is a good idea to reschedule your visit.  We don't want to spread any type of illness and you'll enjoy your visit more when you are at your best!  The staff will let you in, check your temperature and aske you how you are feeling, if you have any known exposure to Covid-19 or if you have tested positive for Covid-19 in the past 10 days, and offer you some hand sanitizer.  Masks are welcome any time if you feel you might want to wear one.  Visits can be in one of our common areas or in your resident's room.  If you have a large group coming in, please call ahead to arrange for adequate space for a comfortable and safe visit.